…California's Association for Collaborative Court Professionals

The California Association of Drug Court Professionals (CADCP) is now the California Association of Collaborative Courts (CACC).
Our new name more accurately reflects our ongoing support of ALL collaborative courts throughout California.
We have revised this website to reflect our new name going forward. You will still find references to CADCP throughout the website, reflecting the history and development of our organization since 1996. We are proud of our beginning as CADCP and we look forward to the future as CACC.
CACC's Mission:
Provide training, technical assistance, and mutual support to collaborative courts in the State of California,
Promote and advocate for the establishment and funding of effective collaborative courts, and
Support evidence-based practice guidelines for collaborative court programs.
CACC is committed to advocacy on behalf of collaborative justice courts in the State of California, to statewide communication with its membership and to the professional development of California's collaborative justice court professionals.
 CACC Members – Access our new discussion site.
Learn more about the various types of Collaborative Justice Courts.
Learn more about the California Association of Collaborative Courts.
Collaborative Justice Courts' shared goals:
Reduction of drug use
Reduction of crime
Increased public safety
Taxpayer savings
Restoration of lives
Children saved and families reunited
To connect with the National Association of Drug Court Professionals, click here.
______________________________
_________________________________________________________________
SHOWCASE
California Celebrates National Drug Court Month – 2014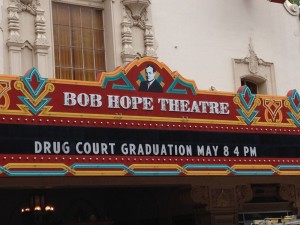 Free to face the future
230 proud graduates celebrate breaking the cycle of addiction
• San Bernardino County
San Bernardino Superior Court to hold 4th Annual Drug Court Update and Graduation Celebration
• Santa Barbara County
The second Veterans Treatment Court Graduation will be commenced on May 23, 2014, from 12:00 p.m. to 1:30 p.m. at the  Veterans' Memorial Building in Santa Barbara, California.
Imagine a Collaborative Courtroom – A Radio  Interview
__________________________________________________________________