May is National Drug Court Month.   Each year, National Drug Court Month (NDCM) shines a light on the collective impact of Drug Courts, DWI Courts and Veterans Treatment Courts. National Drug Court Month is our greatest opportunity to celebrate our work and the countless lives saved, families reunited, and communities made safer.
Drug Courts around the country honor National Drug Court Month by holding events with the theme "Drug Courts: A Proven Budget Solution."   National Drug Court Month's All Rise America! Cross-Country Tour begins in California.  Join us in sharing what you are doing in your community.

For San Bernardino's Annual Update and Celebration click here.
For Santa Barbara's National Drug Court Month Celebration click here.    
This includes photos of the All Rise Vehicle's first stop on its way across country!

For San Luis Obispo County's 22nd Drug Court Ceremony click here.
For Victor Valley's Celebration click here. 
Click here to read Cross country tour makes stop in Victorville
Send information about your National Drug Court Celebration to communications@cadcp.org
(your invitations, press releases, photos, videos)
and you will see them posted on this website!
For suggestions and ideas on how to celebrate National Drug Court Month, click here.
__________________________________________________________________
…California's Association of Collaborative Courts

The California Association of Drug Court Professionals (CADCP) is the principal professional organization representing the interests of  collaborative justice court programs in the State of California. CADCP's multidisciplinary membership includes judges, prosecutors, defense attorneys, court administrators, treatment providers, probation and community corrections officers, social service caseworkers, and other stakeholders in the field of collaborative courts. CADCP was established in 1996.
______________________________
Click here to JOIN or RENEW as a INDIVIDUAL
Click here to JOIN or RENEW as an ORGANIZATION

_________________________________________________________________
SHOWCASE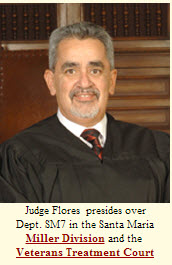 Click here to learn more about Judge Rogelio R. Flores __________________________________________________________________
 Collaborative Justice Courts' shared goals:
Reduction of drug use
Reduction of crime
Increased public safety
Taxpayer savings
Restoration of lives
Children saved and families reunited
CADCP'S Mission(s):
The core missions of the CADCP are to:
Provide training, technical assistance, and mutual support to collaborative courts in the State of California,
Promote and advocate for the establishment and funding of effective collaborative courts, and
Support evidence-based practice guidelines for collaborative court programs.
CADCP is committed to advocacy on behalf of collaborative justice courts in the State of California, to statewide communication with its membership and to the professional development of California's collaborative justice court professionals.
Types of Collaborative Justice Courts…
To connect with the National Association of Drug Court Professionals, click here.